History
For nearly 20 years, Chastine Enterprises, Inc. dba Pinnacle Management Group, LLC has serviced the Las Cruces area by providing professional property management with a personal touch. We started out with one apartment complex and have since grown to include over 17 apartment complexes of varying size as well as a host of homes, mobile home parks, and commercial complexes.
Managing investment properties can involve many tasks, some small, some large. Pinnacle has developed a proven system to efficiently manage any rental. We are constantly tweaking our systems to adapt to an ever-changing market landscape. This industry demands that management professionals adjust to the climate and trends of the times. And while Pinnacle has grown to represent a large portfolio of managed properties, we are still able to maneuver the ever-changing business landscape by remaining flexible and alert.
We at Pinnacle pride ourselves for our professional yet personal management. We believe Pinnacle is an integral link in the chain between investors and their tenants. It's our job to make your life easier.
Staff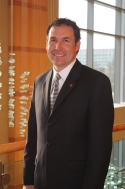 Alan Chastine, CCIM, Qualifying Broker, Owner
Alan is the Qualifying Broker and Owner of Pinnacle Management Group, LLC. He has been in the commercial real estate investment business since 1990, specializing in investment properties. Alan holds a CCIM designation, the highest designation a broker can obtain.
In addition to overseeing Pinnacle's portfolio of properties, Alan owns and operates his own investment properties in Las Cruces. He has experience in managing homes, apartment complexes, mobile home parks, and commercial properties.
Alan started Pinnacle in 1995 with an initial focus on investment real estate. Alan continues to broker investment properties such as apartment buildings and commercial complexes through a sister company Pinnacle Investment Properties.
Parquer Chastine, Operations, Assoc. Broker
Parquer graduated from NMSU in 2006 with a degree in Business Management. His initial launch into the business world had him running a Penske Rental Truck operation in Hammond, LA.
From there, Parquer moved into a role as a Multi Function Financial Analyst with Lockheed Martin IS&GS. After a 4 year stay with IS&GS, in which he oversaw contracts worth $20,000,000 he then was promoted and moved to Fort Worth, TX to work on Lockheed Martin's largest program, the F-35. After a year working as a lead on the F-35, Parquer then took a job with AECOM in there Government Services group. During his time as a Finance Manager with AECOM he was responsible for overseeing programs with a yearly revenue over $200,000,000.
Parquer's astute understanding of finance and operations from many years of working on large contracts brings a sound financial background and a structured experience to the property management field, adding gravity and stability.
For more information, you can email him at parquer.pinnacle@gmail.com, or find him on linkedin at https://www.linkedin.com/in/parquerchastine